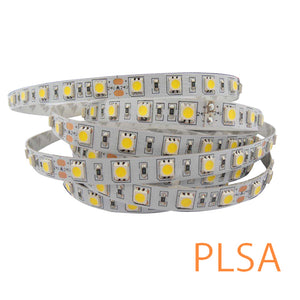 50m Bulk Pack 24v DC 14.4 Watt IP20 Strip for DIY
$67000

$670.00
Tax included.
---
---
50m IP20 Bulk Spool of high output premium 14.4 Watt 24v DC strip in your choice of:
3000K Warm White
4000K Natural White
5000K Daylight White

Each 50m spool includes 10 quick connect DIY power feed connectors. Due to the high output of this strip, we do not recommend this for 24 hour usage, ideal maximum is 8-10 hours per day. This product must also be stuck to a suitable metal heat sink or warranty is void. 

Please note - 24v DC transformer/s are required and NOT  included.
============================
Input: 24v DC
Maximum Run without voltage drop: 5m
Maximum suggested run WITH voltage drop*: 10m
IP Rating: IP20 - indoor use only
Lumen Per 1m: up to 1000 lumen  per 1m when undiffused
CRI: 75+
Dimmable: Yes, if dimmable  24vDC transformer is used with it
Warranty: 2 years replacement only warranty** 
Chips per 1m: 60 (Dotting is visible if mounted in slimline diffused bars) 
*Voltage drop occurs for anything over 5 metres. After 5m the brightness will steadily decrease. The end of the 10 metre run will be noticeably dimmer compared to the first 5m of the run.

** We do not take responsibility for costs associated with installation/re-installation. Faulty product must be returned to us by customer before any replacement goods are sent out.