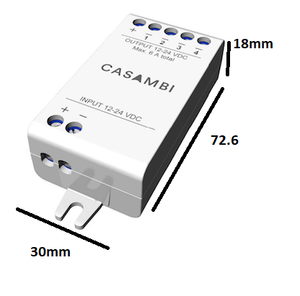 CASAMBI CBU-PWM4
$16000

$160.00

Save $40
Tax included.
---
---
CBU-PWM4 can control up to four channels making it an ideal partner for RGBW, Tunable White or Mono colour options. The maximum combined output current is 6 A which can be freely divided between 1 -4 channels. CBU-PWM4 is protected against overvoltage, overcurrent and short circuit situations.
CBU-PWM4 can be controlled with Casambi app which can be downloaded free of charge from Apple App Store and Google Play Store.
Different Casambi enabled products can be used from a simple one luminaire direct control to a complete and full-featured light control system where up to 127 units (Classic) or 250 units (Evolution) form automatically an intelligent mesh network.

Requires a suitable constant voltage power supply, and compatible strip light to suit, as well as a compatible smart device, and the free to download CASAMBI app to control. Each CBU-PWM4 is tested and dated here prior to dispatch with photographic proof of working prior to dispatch.  

Refer to manual here  for more information including detailed wiring instructions and limitations of the device and install.  

Specifications below, direct from CASAMBI, and were correct to the best of our knowledge at time of writing, 27.09.21 but may be subject to change at any time.  
Input
Voltage range
12-24 VDC
Max. input current:
6 A total   (eg, at 12v, the absolute max  load is 72w and we suggest a minimum of a reputable quality 100w power supply)


No-load standby power
< 0,3 W
Output
Output voltage
Same as input voltage
Max. output power
144 W @ 24 VDC
72 W @ 12 VDC


Max. output current
6 A (can be freely divided between the channels)
4 A (US and Canada)
Min. load requirement
0 W
Dimming method
Pulse Width Modulation (PWM)
Dimensions
72,6 x 30,0 x 18,0 mm
Protection
IP20
Warranty: 12 months