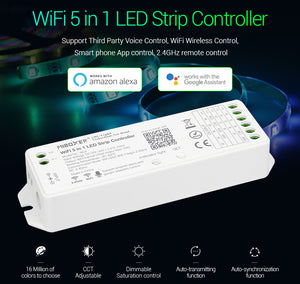 P- WL5 - 5 in 1 low voltage strip controller
$6000

$60.00

Save $40
Tax included.
---
---
P- WL5 is a low voltage (12 OR 24vdc) strip light controller that supports single colour strip, RGB strip, RGBW strip, RGB+CCT strip, and CCT strip. It works with the dedicated Miboxer app, or can also be used with Tuya Smart app* (requires suitable 2.4ghz wifi network/router). We however recommend to always use the FUT089 as a backup option as issues with network compatibility and hardware are out of our control.
A suitable power supply is required to power this device - they are not included - the power supply MUST suit the strip you are connecting. Must be installed by licensed electrician. The device must be set to the corresponding mode to the strip. Each device once set can only control the type of strip it is connected to. Eg, if set to RGB mode, connect only RGB strip. Connecting RGB+CCT strip for example means you will not get full functionality or the functions may not work correctly.  NO STRIP is included with this device. 
NB: You must calculate strip loads accordingly to avoid overloading of the device. We always recommend allowing MINIMUM of 20% headroom when calculating loads of your power supply required. Similarly, the max load is 15A, but we recommend a max TOTAL load of 12-13A to not run the device at brink. 
NB: RGB, RGBW, RGB+CCT products are always quoted with outputs of theoretical maximum draw. When operating on single colours such as red, or combination colours like purple (red+blue mixed) the output will be a fraction of the output. 
Product Parameters
Model No.: WL5
Working Voltage: DC12 OR 24V
Output: 6A/Channel
Total Output: Max.15A  (we recommend a max of 12-13A)
Work Temperature: -20~40° (Ensure good airflow and do not cover with insulation)
Communication Mode: WiFi-IEEE 802.11b/g/n 2.4GHz
RF: 2.4GHz ONLY
Warranty: 2 year replacement only (warranty covers replacement goods only, it does not cover any costs associated with installation or re-installation of goods, including but not limited to labour fees, travel, gear hire, etc) -  We accept no responsibility for any issues with network compatibility, tech support, or issues with app and smart device and smart automation (google, alexa etc compatibility or similar as these are all out of our direct control.  Your device must be running latest firmware and version of applicable software.
All product names, logos, brands, trademarks and registered trademarks are property of their respective owners. All company, product and service names used in this website are for identification purposes only. Use of these names, trademarks and brands does not imply endorsement.